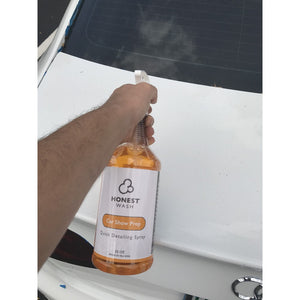 3 Great Uses for Quick Detailer!
Quick detailer is great for removing dirt and dust from your car in between washes. Simple to use, you just spray quick detailer on your car and wipe away with a microfiber towel. Quick detailer or spray detailer as some call it has become the go to product for enthusiasts because of its versatile.  The following uses are just a few common uses for quick detailer.
1. Last minute shine before a car show.
Quick detailer allows you to remove dirt, dust, and fingerprints from your car without the need for a hose or soap. It is these traits that make quick detailer perfect for cleaning a car right before a car show. Quick detailer is so well suited for getting cars in show condition that we named our quick detailer Car Show Prep.
2. Clay bar lubricant
Clay bars are perfect for removing contaminates left on clear coat and leaving a smooth finish behind. From overspray to metal particles clay bars will remove it. When using a clay bar, it is essential to keep the vehicle's paint wet so the clay glides on top of the paint. Quick detailer is ideally suited because it not only keeps the paint wet so the clay bar can glide but it also won't leave behind water spots or residue.
Image courtesy of SmartClay
3. Bird Sh*t Remover
You know what they say, "when you gotta go, you gotta go". If your car happens to be under that birdy when he's gotta go, well your sh*t out of luck. Luckily quick detailer is great for removing bird droppings. Just spray quick detailer onto the "damaged" area and remove the little present the stork left you. Spray the area once more with quick detailer and wipe with a microfiber towel. Quick detailer will clean the area and insure the damage is only temporary.
Car Show Prep is our premium quick detailing spray. With a mango scent, Car Show Prep offers a pleasant aroma as you clean your car.
---